In addition to the high sensitive smoke detection, the AVA Series Early Warning Fire Detectors can also be used with an external Auxiliary Sensor Module to detect temperature, humidity, dew point and specific gas concentrations in air samples.
The auxiliary sensor module consists of two sensor elements: a temperature/humidity sensor and an electrochemical gas sensor, both of which are optional. The electrochemical gas sensor has 14 gas options. The CSD auxiliary sensor module has one gas option and the ASD auxiliary sensor module has two gas options.
Auxiliary Sensor Table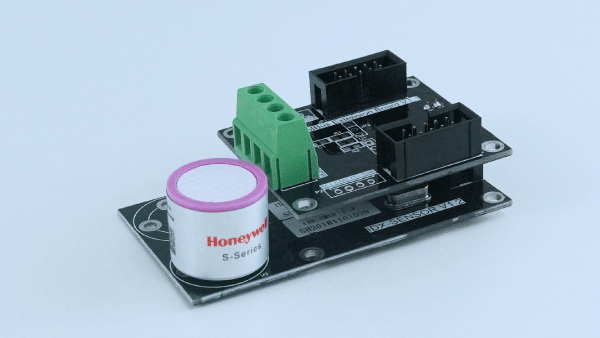 Feature
AVA ASD Detection Unit can configure to have double confirmation signal (Smoke ALARM + External Sensor) to relay this double confirmation signal to 3rd party system .
AVA ASD Detection Unit can display the ALARM of this external sensor on the unit.
AVA ASD Detection Unit can log the event from this external sensor.
AVA Management Software can display the analogue value of these external sensor into Sophisticated management software.
AVA ASD Detection Unit can provide MODBUS protocol of the analogue value from these external signal to building automation system
Specification
Voltage
- 5V
Bus
- I2C
Humidity & Temperature Sensor
Temperature
‒ Range:-40~120℃
‒ Resolution:0.01℃
‒ Precision:±0.5℃
‒ Response Time:5~30s
‒ Repeatability:±0.1℃
‒ Drift:≤ 0.04℃/year
Humidity
‒ Range:0~100%RH
‒ Resolution:0.5%RH
‒ Precision:±4.5%RH
‒ Response Time:8s(Typical Value)
‒ Repeatability:±0.1%RH
‒ Drift:≤ 0.5%RH/year
Gas Sensor
- Principle:Electrochemical
Carbon Monoxide*
- Range:0~500ppm
- Maximum Overload:2000ppm
- Resolution:1ppm
- Response Time (T90) :≤ 30 s
- Long Term Stability:< 2% Signal/Month
- Operation Temperature:-20 ~ 50 °C
- Operation Humidity(Non-Condensing):15 ~ 90 %RH
- Pressure Range:90 ~ 110 kPa
- Expected Operating Life:2 years in air
- Warranty:18 months from date of Despatch
*Note: The range of 500ppm for carbon monoxide is represented here, for other gas sensors and ranges, please contact AVA PREVENT.