Perfect Solution for Cabinet Fire Detection
In the past the best way to detect fire in electrical cabinets is aspirating smoke detection system. In this way, air samples of all protected cabinets are drawn back to a central detection unit using an aspirator and sampling pipe network connected to each cabinet to monitor if there's any presence of smoke in the cabinet. Although it can detect fire in a relative early stage but the shortage is it can't identify which cabinet is in fire. The user needs to open the cabinet one by one to search the origin of the fire.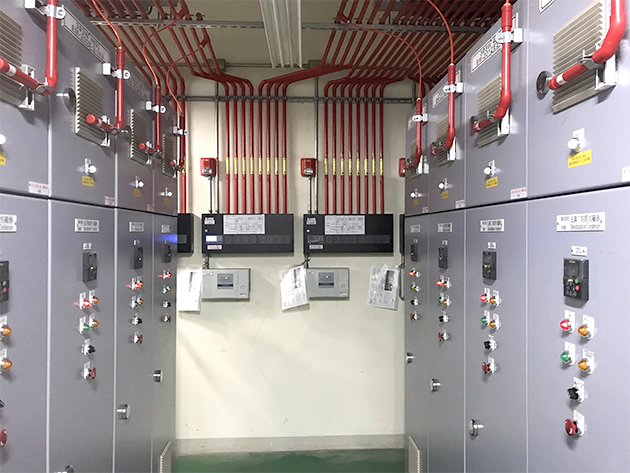 Imagine a detection system having 60 cabinets protected by one aspirating smoke detector. When there's alarm, the user faces rows of enclosed high voltage electrical cabinets and he needs to open and check every cabinet to find out the location of a fire. The alarm continues and the clock is ticking, the risk of explosion… how tremendous pressure is the user faced.
Now the innovative CSD cabinet smoke detector introduced by AVA PREVENT has miniature size that is especially designed for single cabinet aspirating smoke detection. The CSD cabinet smoke detector integrates aspirator, high sensitivity smoke detector, display/control/program panel, relays and network interface all together in a miniature size.
It can be installed on every cabinet to detect and identify the detection and alarm status so the user will not have to perform search in a dangerous electrical fire.
The CSD is a perfect solution to cabinet fire detection.
Features
AVA CSD-100 uses high power, short wavelength blue LED as the detection light source. It is very sensitivty to small smoke particles generated during the incipient stage of a fire, at which time the some is invisible to human eyes. The highest alarm sensitivy of AVA high sensitivity smoke detector is 0.005%/m, which is 1000 times more sensitive to conventional point type smoke detector.
l Alarm Sensitivity Range: 0.005~20%/m
l Four Alarm Levels
l Up to 12m Capillary Tube Length
l Up to 4 Sampling Holes
l 3 Relay Outputs
l 3 in 1 Control/Display/Programmer Front Panel
l RS485 Network
l Support Modbus RTU Open Protocol
Specification
Smoke Detection Principle
Forward Light Scattering Mass Detection
Smoke Sensitivity
Smoke Detection Range: 0.001~25%/m
Alarm Sensitivity Range: 0.005~20%/m
Sampling Pipe
- Type: Capillary Tube.
- OD: 10mm
Maximum Capillary Tube Length*
- 12m
Maximum number of sampling holes*
- 4
Alarm Levels and Time Delay
- Alert (0~60 sec.)
- Action (0~60 sec.)
- Fire-1 (0~60 sec.)
- Fire-2 (0~60 sec.)
Environment Smoke Learning
- 24hous, 365days Non-Stop Smoke Background Level Learning
Flow Monitoring
- Pipe Flow Normalize to 100%
- Flow High and Flow Low Fault
- Adjustable Flow Detection Sensitivity
- Adjustable Flow Fault Threshold
Relay Output
- 3 Relays (Configurable)
- Rating: 2A@30 VDC
General Purpose Inputs
- 1xGPIs (Configurable)
- GPI Functions: RESET/ISOLATE/SILENCE/TEST/MAINS FAULT/BATT. FAULT/POWER FAULT/SENSITIVITY MODE 1/SENSITIVITY MODE 2/SCAN/UDI-1/UDI-2/UDI-4/UDI-5
*Note: UDI, User Defined Input
Communication
- RS-485 Network
- Maximum number of devices on Network: 250
- Maximum cable length: 1.2km
- Support Modbus RTU open protocol
Control
, , & buttons
20 segment smoke level bargraph
6-digits Numerical LEDs Display

Real Time Smoke Level
Real Time Airflow Level
Device Address
Active Event & Codes

4 Fire Alarm Indicators

Alert, Action, Fire 1, Fire 2

4 Fault Indicators

Detector, Airflow, System, Auxiliary

Isolated indicator
Beeper
Programmer
Access Password Controlled
Bargraph and 6-digits 7-Numerical LEDs display the function.
<><> <+> <-> buttons to change settings .
Event Logs
- Number of Events: 3000
- Event Type: Alarm/Fault/Operation/Smoke/Flow/Auxiliary Gas Sensors

Operating Conditions
- Ambient Temperature: 0~40 ℃
- Sampling Air Temperature: -20~60 ℃
- Humidity: 10~95% RH Non Condensing

Power
- 24 ±4.8 Vdc
- 170mA

Dimension
- Length=180mm
- Width=90mm
- Height=72mm

Weight
- Net Weight:0.8kg